And it's all ridiculous. They're gratuitous, they're in a posture as if they're hung there to dry, and they seem so proud of themselves. Unlike a lot of architectural sculpture the spacemen aren't trying to convince you of one thing or another, they don't come with identities or associations.
The spiritual soul-brother of the Governor Hotel is the little-discussed F.C. Bogk House back in Milwaukee, Wisconsin, a design of Frank Lloyd Wright's. It's a private residence, a late and strange example of Wright's fascination with geometric ("architectonic") figural sculpture integrated with architectural form. The Bogk House carries four patterns under the eaves on the facade that, when you look, resolve into four male figures with outstretched arms, faces, and outspread wings. They're also awkward. More than a little awkward. They're not going to make the cover of the next FLW calendar. Wright took artistic risks. Not all of them worked out.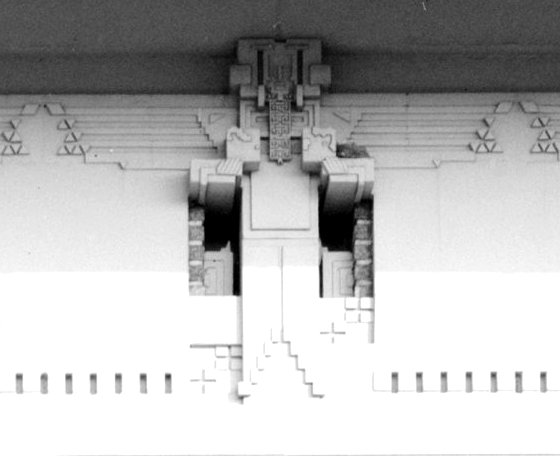 The Bogk House dates from 1916, seven years after the Governor, but since about 1903 FLW had been fascinated in the conventionalization of the figure, breaking down the human figure into geometric principles, and finding some geometric reconciliation between the biomorphic shapes of the human figure with the straight lines and flat planes of architecture.
Wright also experimented with geometric human figures at the Larkin Building in Buffalo and the Dana-Thomas House in Springfield Illinois, but artistically the most successful examples were the sprites at the Midway Gardens beer garden in Chicago, built in 1913, where Wright and sculptors Richard Bock and Alfonso Iannelli produced a set of conventionalized figural variations for "Cube" (male), "Octagon" (male), "Triangle" (female), "Totem Pole" (male), and "Sphere" (female, not stylized at all). These became fairly well-known at the time but Wright had a hard time sharing credit for those sprites with Iannelli.
Both Bock and Iannelli got a little tired of Wright claiming all the credit and ended their collaborations.
At the Bogk House, three years later, Wright tried to do the sculptural work by himself.