How does the rest of Brookman's career inform our understanding of the Temple? Well, not a whole lot. We do know that Brookman was a versatile stylist, and from Fir Acres we know he had an excellent eye for the integration of ornament.
He brought the ornamental metal worker Oscar Bach out to Portland to work on the Frank mansion, and Bach's work is somewhere in the temple too.
According to Carla Breeze (American art deco: architecture and regionalism) at least some of the art glass in the temple was done by Albert Gerlach, the Star-of-David chandeliers were designed by Fred Baker of Portland, and some of the woodcarving might have been done by Alois Lang.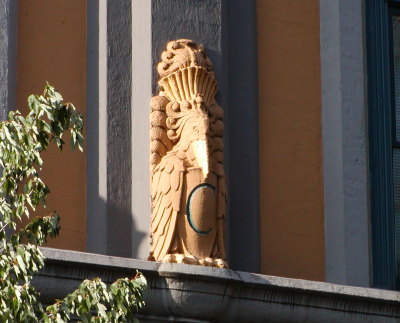 And when Brookman designed the 1927 Commodore Apartments for the oldest daughter of Aaron Meier, he not only indulged in a bunch of polychrome terra cotta but incorporated a bunch of pelicans. Pelicans. (There's one above.) There's a 95% chance that the terra cotta for the Commodore project, and for Temple Beth Israel, came out of Gladding, McBean's plant in Auburn, Washington. In 1926 and 1927 the head modeler at Auburn was an ex-Austrian named Louis Shubert.
So the temple features the work of five known master craftsmen, in differing media, plus the others we don't know about. Choosing those craftsmen, coordinating the styles, colors and thematic message of these pieces, figuring out the architectural placement and lighting and sightlines, approving and installing the work, all to produce a single architectural experience for the user, that's the essence of an entire lost art and discipline.
That, I'm guessing, was Herman Brookman's role here.