This Great Sign, as wonderful as it is, was only the standardized and widely replicated version of the older and more exciting independent motel's signs which were all over the continent. The Holiday Inn sign was dull compared to fabricated illusions for motels called The Continental, The Riveria, Castaways, Caravan, Trade Winds, El Rancho, things like that, like the famous 1934 Steele's Motel sign from Los Angeles, featuring a girl neon diver, who twists in three consecutive positions before disappearing into the pool over and over and over. I think it's her persistence that's so attractive.
The signs were crazy gestures, exuberant, ecstatic, extra-ordinary and vulgar, especially in contrast to the other features of these withered midwestern towns, and after a long dose of road-hypnosis on the dark highway, after 100 empty miles of the murky darkness of midnight flatland Texas, that thing would just crash into your eyes. It was a lighthouse that meant an empty bed just for you, free ice, color TV, sleep -- a nuclear ice palace in a desert of darkness, a clear indication of paradise, satori in Van Wert.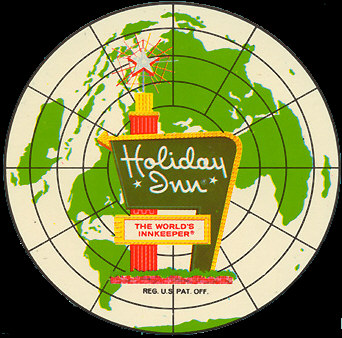 In the morning daylight, if you stood across the street and looked carefully, you could see that the motel building and the motel sign were locked in a death grip. Visually and functionally they were exact opposites who hated each other but needed each other to survive. You know, like GM and the UAW.
The sign was a creature of speed and fantasy and illusion. The sign stood up proudly and belonged to the road. The sign presented a whole nonsensical and liberating illusion about the motel, its fantasy-oriented identity captured in the name and the neon . Only then could you find Camelot in Tulsa ("firetrap" Mom said). The Riveria, The Tropical Inn, Castaways, Caravan, Trade Winds, El Rancho. The sign didn't appear to be materially real, much less economically real, and in its scale aimed to the highway it seemed superhuman, what, 25 or 30 feet up.
The motel, on the other hand, was a thing of restrictive utility and permanent hard fact. It was horizontal and inconspicuous. It belonged to the town. The technical term for a one-story-individual-exterior-room-entry motel shape is "down-and-out". The motel buildings were uniformly concrete and steel construction, cut-rate International styling, colored masonite panels on aluminum grids, etc. Brutal economic reality was obvious inside and out and this thing about The Riveria? El Rancho? Whopping lies. An illusion was the only identity this building could claim. Hard put to find anywhere on the Riveria or the Mexican frontier where the t.v. was bolted to the dresser, the hangers were unstealable, the table bolted to the floor, and the guests trusted only what wasn't worth stealing, like the Bible.