In 1899, six million Americans were members of 350 different secret societies, representing 40% of the adult male population of the country, with lots of women's auxiliary organizations and black and Jewish parallel organizations.
These societies broke down into broad categories:
* mutual assessment fraternities, which were elementary insurance companies. Our A.O.U.W. was the first of these. Soon came many, many, many imitators. To pull a few evocative names from a long list: the Fraternal Mystic Circle, the Native Sons of the Golden West, the Empire Knights of Relief, the Mystic Workers of the World, and the Prudent Patricians of Pompeii.
* Masonic bodies, the biggest category, for instance the American Rite, the Scottish Rite, the Rosicrucians, and other splinter groups such as the Mystic Order of the Veiled Prophets of the Enchanted Realm
* military orders and societies, like the Grand Army of the Republic, which itself had half a million members in 1890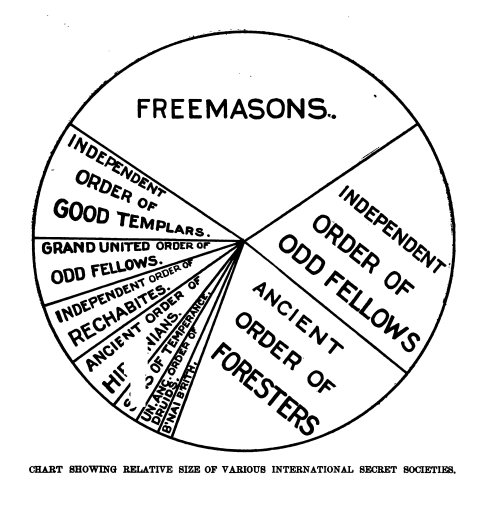 * patriotic and political orders, for instance the Loyal Men of American Liberty, the Knights of Reciprocity, and the Order of the Little Red School House
* Greek fraternities, including lots of familiar Greek letters and the infamous Skull and Bones
* benevolent or "friendly" societies, like the Benevolent and Protective Order of Elks, the Improved Order of Red Men, the International Concatenated Order of Hoo-hoo (half-ironic, Arkansas, founded 1892 during a drinking binge), the Independent Order of Odd Fellows, etc.
* mystic and theosophical societies: Brotherhood of the West Gate, the Hermetic Brothers of Luxor, and the Order of the White Shrine of Jerusalem